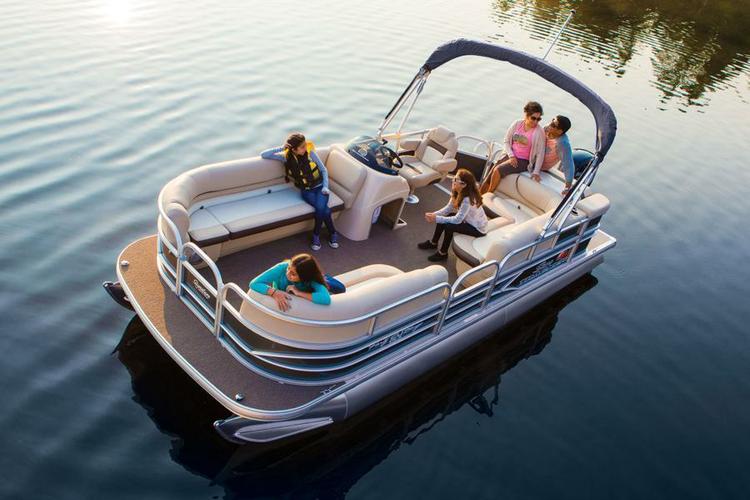 How much does the yacht cost? Where do Miami jet ski tours go? These and other questions are popular inquiries in search. Miami is one of the key attractions for people traveling worldwide. Even locals cannot resist its unique and diverse beauty, renting boats to enjoy views from the water. Ocean waves, sandy beaches, wildlife, a luxury coastline full of sites, and manicurist scenes are desirable for the most sophisticated tourists. How to see and remember all that beauty in one vacation? The task seems challenging.
Fortunately, pontoon boat rentals offer their quality services and provide memorable tours. Are you going to visit Miami and return without new experiences of water activities? No way. You should definitely try pontoon boats and have a nice time with your family or friends while savoring exotic views.
What Is a Pontoon Boat
Pontoon boats are recreational watercraft. They have specific pontoon parts in their construction to float in shallow waters trouble-free. Interestingly, their vintage design has been almost forgotten until Miami boat rentals have brought them back into the spotlight due to their cool recreational properties:
These marine vehicles are stable enough to let passengers walk around.
They provide excellent flexibility regarding the number of passengers, including more than a dozen people.
Pontoon boats have large spaces to store gear, food, drinks, and other stuff.
Kids will never get bored on pontoon boats since they can run, draw, play, and enjoy other fun.
Quality pontoon boats are reliable and comfortable. Some models have tents that protect passengers in rainy weather. Besides, boats have high side rails to make guests feel safer and not worry about falling out.
Enjoy a Crazy Party on a Pontoon Boat
Pontoon boats are multi-purpose vehicles used for a little bit of everything. For instance, they are quite maneuverable to let beginners enjoy safe skiing. Besides, they can reach out to shallow and narrow areas, which is great for fishing.
Those who prefer open-air rest may ask, "What is the best time of year for water sports in Miami?" Well, most people prefer late spring and early fall for water activities. However, pontoon boats are comfortable enough to have a good time in any season.
Despite their versatility, pontoon boats are the most popular vehicles for parties. They are not as expensive as yachts but offer enough opportunities for memorable celebrations. So, if you rent a pontoon boat in Miami, get ready for several hours of non-stop fun with magnificent views of Miami's skyline, golden beaches, Star Island, celebrities' posh houses, and romantic sunsets. Considering dancing and the haute cuisine you can add to your booking, the celebration will forever be etched in your memory.
How long can your party last on a pontoon boat? Actually, the period depends on the provider. For example, the best pontoon boat rentals in Miami offer a pay-per-hour system to let you book as many hours as your want. Alternatively, you can pay as a whole, making a full-day order.
How to Rent a Pontoon Boat for a Party
Party pontoon boat rental in Miami doesn't take much time. Today, there is no need to walk around the pierce looking for captains. Any respectable company has good standing on the Web and offers a quality website to place an order from your desktop or mobile device.
Leading providers in Miami accommodate an absolute number of custom packs to cater to all customers' needs. Would you like to book a pontoon boat for a birthday, corporative, or any other party? No problem:
Find the online service to rent a boat.
Fill in the form by specifying personal info, desired location, and date.
Contact managers to complete the booking.
Enjoy your party!
When applying to the operator, don't forget to tell managers about your plans and desires. Here are the points better to discuss:
Do you need a guide, or does someone from your circle have the necessary skills and documents to manage a pontoon boat? Note that you should be 18 and more to rent and over 25 to manage a pontoon boat.
How many guests are planned to be present on the boat? Various lenders have their own pontoon fleets packed with vehicles of different sizes.
What are you going to do while floating on waves? For instance, family rest will be great on cozy and small boats, while larger vehicles fit parties.
Do you want extra services, like music, food, drinks, entertainment, etc.?
Considering your wishes, the rental company will pick the right pack for your party to ensure a seamless experience, holiday spirit, and zero hassle. There are exclusive and full catering options for daytime or late-night journeys. Moreover, some rentals offer an open bar with unlimited drinks.
While choosing the relevant pontoon boat rental platform, consider safety your top priority. A perfect party should be flawless and never bother you with anxious thoughts. That's why you should focus on providers going the extra mile to guarantee safe tours through cooperation with the most reputable insurance companies in the boat rental marketplace. As a rule, top-notch protection includes safety gear on board, full insurance coverage, and professional on-water assistance.
So, an incredibly cool pastime awaits you if you choose pontoon boat rental. Still, suppose you are interested in where you can rent jet skis in Florida. In that case, you'll easily find the offer from the same company that provides pontoon boats.